The Third Annual "Run for Nazareth Farm" – Friday, August 11th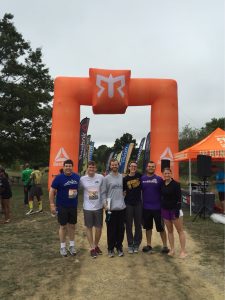 The Third Annual "Run for Nazareth Farm" is just two weeks away.  On Friday, August 11th, a team of Nazareth Farm Staff Members, Board Members, and Friends of the Farm will come together in Bruceton Mills, West Virginia to run more than 100 miles to raise awareness and funds for our 4 Cornerstones and 1 Mission.  Since 2015, our runners have logged over 400 miles — from Cape Cod, to Washington, DC, and now through beautiful West Virginia — all in support of Nazareth Farm. The nine members of this year's Team Nazareth Farm will be running in the Ragnar Trail Appalachians event, an annual long-distance trail relay race, and competing against hundreds of other teams racing through the trails of Big Bear Lake Camplands in West Virginia.
Can we count on your support as we #Run4NazFarm? Help us continue to ameliorate substandard housing conditions in Appalachia and transform lives by providing meaningful service retreats for high school and college students from around the country.  Help us meet our $12,000 goal!  Click here to donate and change the lives in our Appalachian community and beyond.