Current Staff Members
Brian and Jen Suehs-Vassel — Director and Community Member since January 2014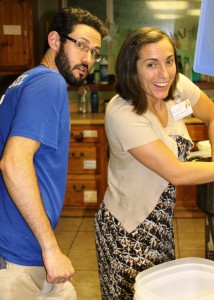 Brian Suehs-Vassel, his wife Jen, and their dog Charlie Brown are joining Nazareth Farm after four and a half years in Boston, Mass. During that time Brian and Jen enjoyed their time ministering at Merrimack College and Our Lady Help of Christians Parish, respectively. Brian's deepest passion for ministry involves helping young adults discover their vocation – how their unique God-given talents can meet the needs of God's people. He is excited about how this passion can be lived out as a member of the Nazareth Farm community and is very humbled to get the opportunity to join in the great work that has been happening at Nazareth Farm for over 3 decades. On a personal note, both Brian and Jen are very excited to move back to Jen's native West Virginia and into the Sandora house.
Torie Bolster — STAFF member SINCE JUne 2015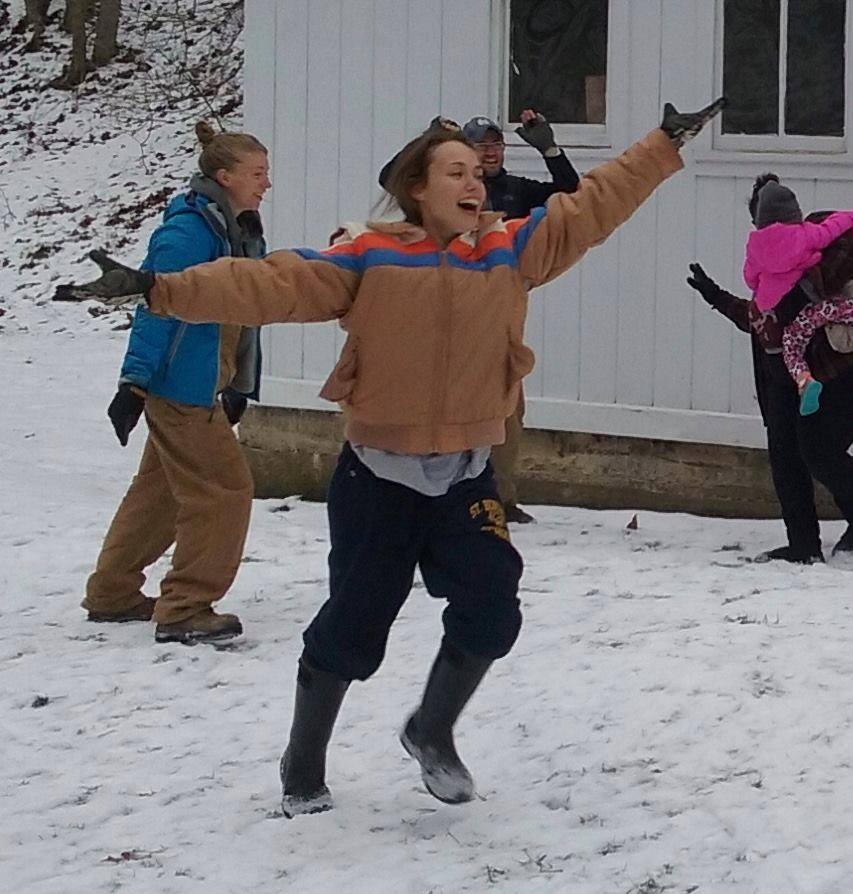 Torie may have been born and raised on the Southside of Chicago, but her heart has always yearned for the country roads of West Virginia to take her home. Having sojourned in the summer of 2014, she came to the realization that the staff life was the life for her… and the rest is history! After graduating from Saint Xavier University, Torie traded in her fancy pants and city shoes for work boots, overalls, and a simpler life. Here at the farm, you can find Tor Tor snuggling with Oscar and Ava, being the number-one hype gurl, and hiking/running through the hollow. If you can't find her in any of those places, she is probably up on a roof, under a trailer, or playing an intense game of Bananagrams. Wait, no… she's more than likely still hanging out with the shmushy-faced pups.
Annie McDonnell — STAFF member SINCE June 2016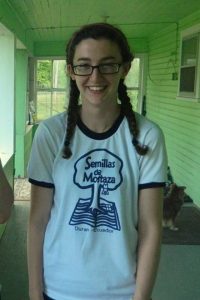 Annie hails from Dorchester, Mass, where she holds the honor of proudest citizen. Around the neighborhood she's known as Annie Mac. At Nazareth Farm you're likely to see her leading the Clean Plate Parade or serenading the volunteers during wake ups. In her downtime, you can find her on b-ball courts, shooting mad threes and boxing out the competition. At Merrimack College, where Annie Mac majored in history and social justice, she led J.C.'s Disciples to the intramural basketball championship. Yet, that is just one of Annie Mac's winning accomplishments. One time she was awarded a free hat upon demolishing a tandem potato sack race. After finding her way to the farm as a sojo in 2015, she fell in love with the farm and the West Virginia mountains and is wicked excited to now be joining the staff. The rest was HISTORY (get it?!).
Amanda Kuhn — STAFF MEMBER SINCE August 2016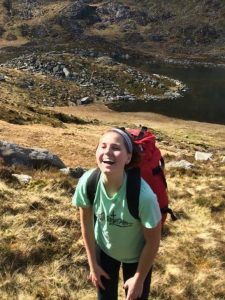 Amanda was born and raised in the western suburbs of Chicago where she spent most of her time playing tennis, badminton, and eating Chipotle. She ventured to the great state of Iowa for undergrad and attended Central College. It was through her faith and the study of Sociology that she became intensely aware, interested, and passionate about God's heart and the world around her. As a past volunteer and two-time graduate of the sojourner program, she has felt a constant pull and call towards Appalachia and Nazareth Farm. She is finally home in the mountains once again and can be found in the woodshop, being crafty, porching or hanging out with the chickens.
Joe Finke – Staff Member Since May 2017
A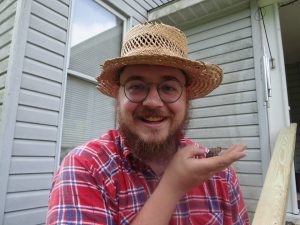 lthough his name is Joe Finke, most just call him Finke. Finke hails from the north most reaches of the great Commonwealth of Kentucky. After graduating high school with his 5 classmates, Finke went off to Seminary at the Pontifical College Josiphinum, where he earned a BA in Philosophy. While there he attended and helped lead trips to Nazareth Farm. After earning his degree, Finke spent a year at the Jesuit Spiritual Center at Milford helping lead retreats for students kindergarten through seniors in high school. Finke returned to the Josephinum to complete one semester of Major Seminary before he felt the Lord's call to leave, upon which he joined the staff at Nazareth Farm. Look for Finke leading the no shower challenge, hunting for snakes, and living it up in the wood shop. When Finke is not on the farm, he enjoys backpacking, blacksmithing, and hanging with friends and family.
Josh LAFave – Staff Member Since July 2017

Josh grew up in southeast Michigan in the Detroit suburb of Livonia. When Josh was over halfway through the nursing program at the University of Detroit Mercy, he found himself headed to a little place called Nazareth Farm. Little did he know that the Farm would be a life changing experience. Upon coming home from The Farm, he started taking bucket showers, planted an organic garden and become passionate about Catholic Social Teaching. Over time, he felt a tug on his heart to consider doing a year of service. After some time discerning, Josh gave God his "Yes" and returned to Nazareth Farm to immerse himself into the four cornerstones. In spring of 2017 Josh graduated with his Bachelor of Science in Nursing and passed his NCLEX, making his official title Joshua LaFave BSN, RN. (Also making him the first nurse to be on staff at Naz Farm!) Around the Farm, you will probably find Josh jamming on the guitar, carrying heavy sandbags up the mountain, playing frisbee or reading a good book.
remy Shaffer Gomes, M.S. —Director of Development Since July 2015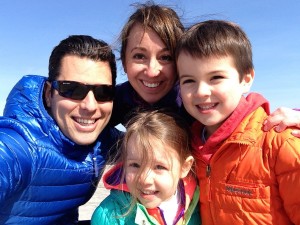 I joined the Nazareth Farm team as the Director of Development in the summer of 2015.  This position enables me to ensure Nazareth Farm's worthwhile mission continues to transform lives and hearts for many years to come.  My first visit to Naz Farm created an auspicious start: I had a 'birthday match" on my actual birthday! I fell in love with Nazareth Farm, the mission, the setting, and the people while learning to install a tin roof. I feel privileged to support our great work and believe this role beautifully combines my personal beliefs and professional skills. I graduated with a degree in communication from the University of Maryland and a M.S. from Miami University in young adult development and leadership. I also bring several years professional experience in development and external relations to my role at Nazareth Farm.  I reside in Owings Mills, Maryland, with my husband Casey and our son Bailey and our daughter Eliana.